Together with my hunting and shooting sports interests, I am (first and foremost) a confessing Christian, and a lifelong student of Christian Theology (the study of God through His revealed word - special revelation) and Christian Philosophy (the study of God as sovereign first causer and upholder of all things: apologetics, through special and natural revelation), which I believe are most purely, comprehensively, and faithfully expressed in historic Protestantism and specifically within Calvinism.
Protestant Reformer
John Calvin
Philosophy is a general term denoting an explanation of the reasons of things; or an investigation of the causes of all phenomena both of mind and of matter. When applied to any particular department of knowledge, it denotes the collection of general laws or principles under which all the subordinate phenomena or facts relating to that subject, are comprehended. Thus, that branch of philosophy which treats of God, &c. is called Theology; that which treats of nature, is called physics or natural philosophy; that which treats of man is called logic and ethics or epistomology, or moral philosophy; that which treats of the mind and the transcendent is called intellectual or mental philosophy, or metaphysics.
True religion and true philosophy must ultimately always arrive at the same principles and the same conslusions.
"The growth of ignorance in the Church is the logical and inevitable result of the false notion that christianity is a life and not also a doctrine; if christianity is not a doctrine then of course teaching is not necessary to christianity."
-J. Gresham Machen 1923
Presbyterian Theologian J. Gresham Machen (1881-1937)
" If I profess with the loudest voice and clearest exposition every portion of the truth of God except precisely that little point which the world and the devil are at that moment attacking, I am not confessing Christ, however boldly I may be professing Christ. Where the battle rages, there the loyalty of the soldier is proved; and to be steady on all the battlefield besides, is mere flight and disgrace if he flinches at that point." --Martin Luther (1483-1546)
Protestant Reformer
Martin Luther
~~~~~~~~~~~~~~~~~~~~~~~~~~~~~~~~~~~~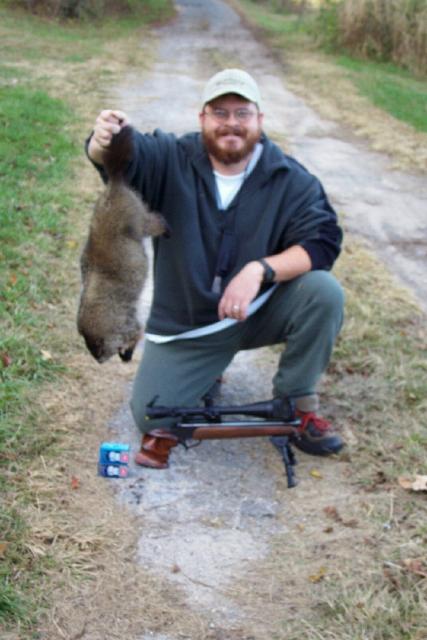 - Click the pic for another -

Sean Coombes VHA #60013: Owner-Operator of Staunton River Outfitters

This is me, holding a Woodchuck that I took in mid-November 2001.

The Woodchuck was taken using a Mike Bellm Rechambered 22wmr super 14" barrel (rechambered from a 22lr) on an old style Contender frame, with 12" custom Bullberry hanger/freefloated forend, Harris BR bipod, Anatomical thumbhole Western Gunstock grip, Bellm oversize hinge pin, and 8-32x target rifle scope held by Leupold High QRW rings and a Weaver 92A base. With this configuration using the Bellm barrel, I have taken Woodchucks all the way out to 225 yards!